by Elaine on Feb.05, 2013, under Blog Posts
On January 11, 2013 we set out on a road trip with our final destination being Oaxaca City, Oaxaca, Mexico and the Textil Museo of Oaxaca where a symposium called Interweaving Cultures:  A Meeting was to be held on January 18 and 19th.  Jean Pierre Larochette and Yael Lurie came up with the inspiration for this symposium and were joined by members of the American Tapestry Alliance and Zapotec weavers from Teotitlan del Valle.
Our companions for the journey were Larry and Judy Romiti, rug weavers with a business called Romiti Art.  Larry generously offered to drive and Judy was the navigator.  They live part of the year near Lake Tahoe, Nevada and part of the year here in Lo de Marcos, Nayarit, Mexico.
Our first night's stop was a lovely small town called Patzcuero.  We stayed in a quaint hotel and had a beautiful view of the area.
The 11 Patios contained many doors leading to arts and craft areas…both retail and working spaces.
Our second day of travel took us to friends of Judy and Larry in Cuernava.  We were welcomed in true Mexican style and stayed there for two days.  Our first full day gave us an opportunity to view a collection of Mexican clothing that was  being offered for sale.  The pieces were mainly made of cotton, although there was a piece of silk and cotton as well.  You can see the detail of the designs in the photos: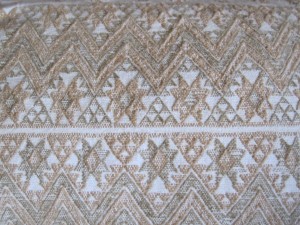 The photograph above is of cotton warp and two different cottons for weft…one for the background and one acting as a supplement for the design.  All natural coloured cotton.
And another one:
That afternoon we went into downtown Cuernava and walked around the square.  We went to the Robert Brady Museo which was his home when he was alive.  He collected art from around the world.  These are just a few examples:
Of course, I was primarily interested in the textiles he had in his collection.  It also turns out he was actually a weaver of rugs and tapestries as well.  He had several wonderful rugs from all over the world: