Archive for September, 2015
by Elaine on Sep.05, 2015, under Blog Posts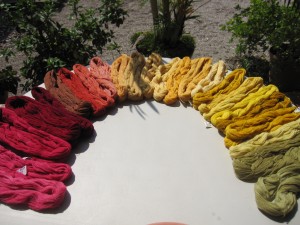 The past two weeks have been spent dyeing with natural dyes yellows and reds.  It has been a lovely time using my crock pot and a pound of fine 2/20's worsted wool purchased the previous summer at Convergence in Rhode Island.  I divided the cone of yarn into 40 small skeins which some mordanted with just alum and others with alum and cream of tartar.  I plan to use this yarn with a heavier yarn for weaving my tapestries.  I will wait for a few weeks and then over dye some of the yellows to get more greens and some of the cochineals to get purples.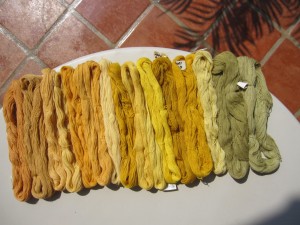 The dyes used from left to right:  Coreopsis from Mexico;  Achiote from Mexico;  Osage Orange from Canada;  Gardenia Pods from Canada;  Marigolds from Mexico;  and iron used on Osage Orange skein.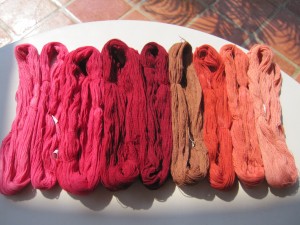 The reds from left to right:  Cochineal from Mexico and Madder from Canada.
Leave a Comment
more...