by Elaine on Feb.19, 2015, under Blog Posts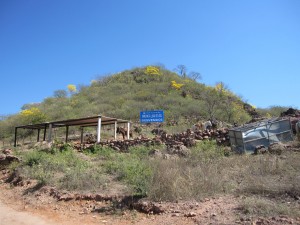 Welcome to the Huichol Village:  Centro Ecoturistico, Tawexikta Lugar del Sol, Bienvenidos.
A group of seven fibre artists toured a Huichol community north of Tepic.  We woke early and left Lo de Marcos at 7 am.  We drove to Tepic for breakfast and then continued north from there to a hydro electric dam on a lake where we caught a small motor boat to the village.
We had a delicious meal served at the small restaurant with a tour of accommodation just in case we would like to return and spend a longer time in the Huichol Village.  And then we got into our little boat and returned to civilization.  This was an extraordinary as well as, delightful, time for all of us.